Upstream Exploration & Production
Hero Summary
Flowserve solutions are designed to deliver maximum uptime, in the middle of the ocean or at the ends of the earth.
In upstream exploration & production, uptime is critical. Every second of inactivity is an expense. At Flowserve, our goal is to set your operations up for success from the start, and keep you running with minimal to no interruption
Hero Image

The toughest equipment for optimal reliability
Whether you're pulling crude oil out of the ocean floor or out of oil sands, you need production equipment as tough as the job that needs doing. Flowserve understands the rigors of upstream production and the detrimental side of downtime, and creates more durable solutions that can withstand the salt, sand and other debris that otherwise might slow or halt production.
A responsive, local presence around the globe
We also understand that when equipment needs repair, rapid turnaround time is essential to keep operations running. That's why our global network of local service centers can be found in even the most remote parts of the world, with large inventories of replacement parts ready to be shipped at a moment's notice or for use in support of a quick repair. Additionally, our established relationships with foreign governments also help accelerate response time.
Safe solutions – for your workforce and the environment
Equally important, Flowserve understands that maintaining safety and supporting environmental regulations is vital. That's why our products are engineered to avoid leaks and spills, and to keep emissions within permitted levels. We have years of experience working with regulations around the world to design the appropriate configurations and provide access to the right tools and resources.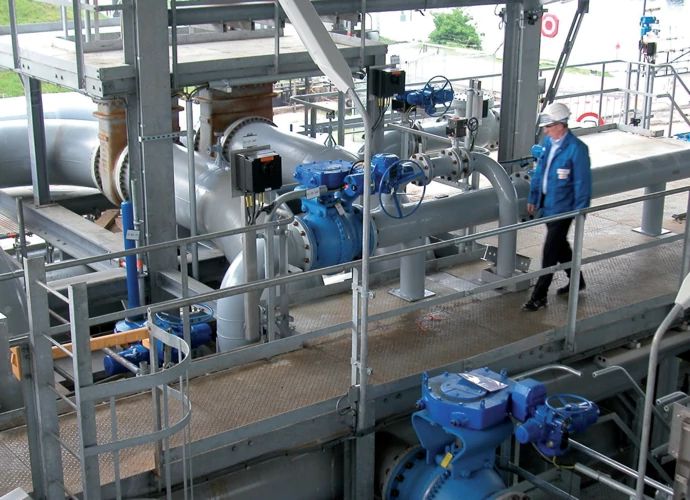 Advanced Data Processing Capabilities Make Actuators Smart
In upstream exploration and production, uptime is critical. Valve failures can cost millions in lost productivity. Smart actuators improve valve reliability, simplify maintenance, and proactively identify upset conditions before experiencing downtime.
One way to smooth out the process of controlling the flow of injection gas in gas-lift applications is to use automatic control coupled with a conventional system of sensors, an automatic control valve and a controller. The heart of a conventional automated system is a control valve, which automates the process of setting the injection rate. The control valve is coupled with an automation package that consists of a flowmeter, a pressure transducer and a temperature sensor, which are all equipped with transmitters and typically connected to a distributed control system (DCS) or a programmable logic controller (PLC). This process allows operators to control and monitor these critical indicators remotely and change the flow control of the injection gas accordingly. Flowserve has the valve systems and automation to maximize the gas lift operations in the field.
Flowserve has a proven history of solutions for complex field gathering systems built with reliability and environmental safety. Customers both big and small use our products and services to responsibly maximize performance in both radial and trunk line operations. Keeping the crude moving safely to the process points without interruption is critical to an efficient process.
When your operations are located on floating platforms in the ocean, it's critically important that nothing breaks. Flowserve offers highly engineered products with high reliability, and services that are local to remote areas so you can get back up and running when shutdowns do occur.
Flowserve has the equipment to handle the heaviest of crude oil applications in the upstream oil and gas production. These are designed to work with CO2 injection, water injection and heavy oil production pumping to keep the crude moving up out of the well to production facilities.
Flowserve leads the oil and gas industry with high-pressure ISO 13709/API 610 pumps in barrel and axially split designs. A new generation of barrel pumps for injection service permits customized hydraulics-pressure design specifications. Flowserve offers many valve types for artificial lift and EOR applications, including control and finite control valves, high-performance and rubber-lined butterfly valves, trunnion-mounted and floating ball valves plus electric/pneumatic/hydraulic actuation.
Offshore production can be hazardous. To mitigate risk, Flowserve offers highly engineered, robust and reliable systems adapted to offshore space and weight concerns and environmental conditions. Engineered solutions designed to satisfy critical packaging solutions for tight quarters is a Flowserve specialty.
Flowserve equipment is key in obtaining synthetic crude from oil sands. Our solutions offer flexibility and reliability in bitumen mining-extraction, as well as in more traditional oil production services. Flotation froth pumps and control valves are critical to the processing of the bitumen to remove the sand from the oil. Flowserve has a wealth of experience in these extremely erosive high cavitation applications.
All Process units for Oil and Gas whether upstream or downstream are under mounting pressure to maximize revenue and improve efficiency. For process control applications, installing intelligent valve technology can lead to significant increases in productivity with minimal initial investment and short payback periods for your Oil and Gas application whether in Exploration and Production, Transportation and Storage, or Processing.
The Flowserve product line covers the complete span of control valves, including a family of advanced intelligent field devices, and specially engineered products designed to meet the requirements of specific customer applications. The actuation and positioning offerings also allow for complete customization of the control valve performance.
Estimates of remote or stranded gas reserves range from 40 to 60% of the world's proven gas reserves. Although this massive global gas reserves are largely untapped, and conventional means of development face logistical and economic barriers. No matter where the oil is located or how challenging the process to acquire it, Flowserve can facilitate the process.
The Flowserve portfolio of thrusters, combined with engineering and technical systems, helps units maintain their station positions. This portfolio embodies the steady and reliable solutions offered for upstream applications.
Enhanced oil recovery (EOR) methods are supported by Flowserve's suite of pumps and valves designed for control and high-pressure conditions. In fact, Flowserve pioneered secondary recovery through high-pressure water injection. Today's advances in EOR have made wells more effective and the process of crude extraction more profitable.
Water treatment and utilities are a vital part of your operations. Flowserve water solutions provide reliability and efficiency to keep you running without worry.