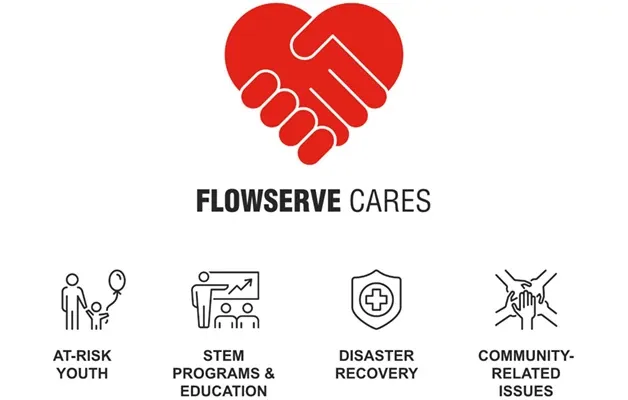 Community Impact Program: Flowserve Cares
Throughout our history and across the organization, Flowserve employees have donated their time, skills and efforts to charitable causes within their communities. Long before the creation of Flowserve's purpose, values and behaviors, our people have demonstrated a natural desire to help those who are at-risk, less fortunate and victims of situations beyond their control. Flowserve supports our communities through monetary donations and also by providing our people with time off to volunteer for local organizations and causes that they care about.
default
Flowserve's global community impact program, Flowserve Cares, launched in 2019, empowers associates to request company support for community programs and needs. Flowserve Cares incorporates monetary donations, in-kind contributions and volunteer opportunities to help make meaningful impacts in the communities where our associates and customers live and work. The programs selected for grants reflect a wide range of needs that align with Flowserve's core support areas: at-risk youth, stem programs and education, disaster recovery, and community issues.

Flowserve Cares has contributed to organizations throughout regions in Asia Pacific, North America, Latin America, Europe, Middle East and Africa regions.