Desalination
Hero Summary
Every day, in desalination plants all over the world, Flowserve pumps, valves, and energy-recovery products help to bring fresh potable and industrial water to millions of people.
Global demand for clean water continues to accelerate, and municipalities and industries are looking for reliable, energy-efficient desalination solutions. As a leading provider of desalination technologies and support services, Flowserve brings safe, cost-effective water to communities. Whether for potable or industrial use, you will find our high-efficiency pumps, valves and energy recovery devices hard at work in desalination plants all over the world.
Hero Image

Integrated systems and services that reduce total cost of ownership
In designing modern desalination plants, cost-effective water production, energy consumption and system availability are major drivers. Our ability to deliver complete, integrated flow control systems that are energy-efficient and scalable enables desalination plants to operate economically and grow with demand.
Regardless of the desalination process, Flowserve supports customers with specialty equipment and aftermarket services to advance plant operating goals and keep key flow control processes running smoothly. Flowserve offers …
Unparalleled experience in the design and operation of high-efficiency fluid motion and control systems.
Single point of contact and responsibility for all major equipment, including pumps, energy recovery devices, valves and mechanical seals.
Equipment and system optimization to provide the lowest total cost solution.
Engineering and technical resources for application support and ongoing life cycle cost-reduction services.
Local support of parts, repairs and service through nearly 200 global Quick Response Centers.
Condition monitoring and maintenance contracts that guarantee availability and efficiency of equipment.
Educational services that train customer personnel in the selection, operation and maintenance of pumps, energy recovery devices, seals and valves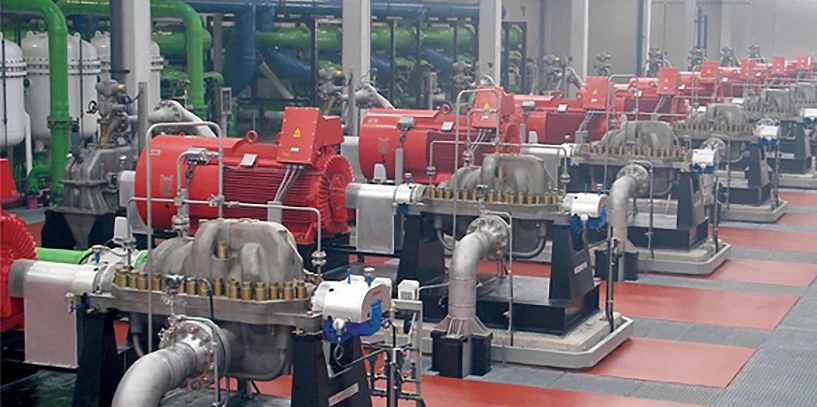 Experience that counts
Flowserve equipment is installed in 90% of the world's desalination plants. More than two-thirds of mega seawater reverse osmosis (SWRO) projects have Flowserve pumps and ERDs. We have been a leader in desalination since it was commercialized on a large scale. And, we have partnered with some of the world's largest desalination EPCs, contractors, developers and end users to build plants using thermal and membrane technologies.
Reverse osmosis desalination
Energy consumption is generally the biggest operating cost driver of reverse osmosis (RO) desalination. Advances in membrane and energy recovery technologies are making SWRO and brackish water reverse osmosis (BWRO) more economical, but it can't be taken for granted.
We understand RO plants consume a lot of power, much of it by high pressure pumps, so we build optimal efficiency into every one of our RO systems. Our high-pressure membrane feed pumps and ERDs — including Calder® DWEER™ isobaric devices and Calder ERT energy recovery turbines — feature optimized hydraulics and advanced material technologies to keep operating costs low and plants running profitably. Moreover, our detailed systems knowledge along with a full menu of technical support services are available wherever and whenever needed to ensure plant availability goals are met.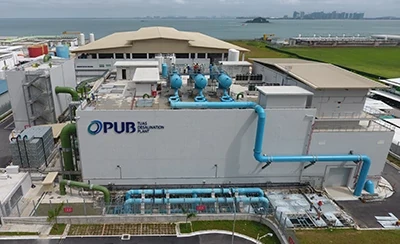 Flowserve was honored by HSL for its contribution to the construction of Tuas Desalination Plant 3 in Tuas, Singapore.

Singapore opened its third SWRO desalination plant in June 2018. Able to produce 136 million liters of drinking water per day and utilizing 50 Flowserve pumps, the plant boasts the highest output per square foot of any of the country's desalination plants. HSL CEO Mr. Charles Quek said it was one of the most space-efficient and technologically advanced desalination plants in the world.
Multistage flash distillation (MSF) and multi-effect distillation (MED)
Thermal desalination via MSF or MED is most economically advantageous where water salinity is very high. Selecting equipment and materials that can survive elevated brine temperatures and salinity is critical to the success of these plants. Pitting, crevice corrosion and stress corrosion cracking are major challenges in processing seawater and brackish water.
Flowserve is unmatched in materials expertise and applications know-how. Our pumps and valves are available in a broad range of corrosion-resistant materials — both metallic and non-metallic — to provide a competitive total cost solution for the corrosive services found in MSF and MED desalination plants.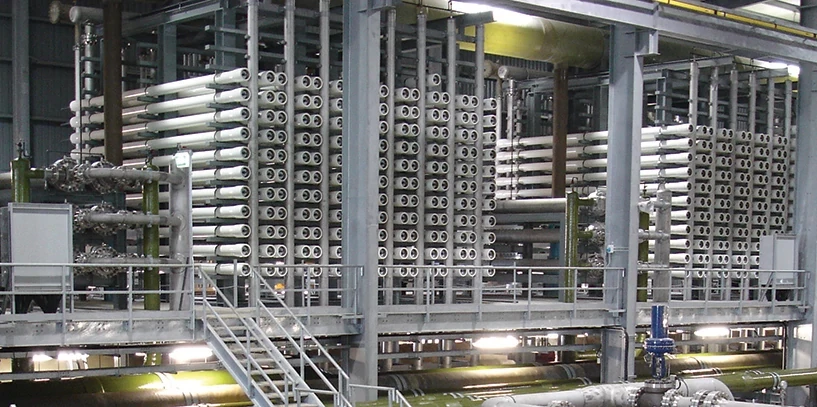 Understanding the business of desalination
We've worked with government-backed fixed engineering, procurement and commissioning (EPC) projects as well as privately financed build-own operate (BOO) and build-own-operate-transfer (BOOT) ventures. Our dedicated desalination experts and project managers understand the business challenges of each commercial model.
For new projects or major upgrades, our dedicated global project managers and engineering experts help streamline execution. They offer a total solution approach, focused on creating the most efficient and technologically advanced systems. They work with your teams to select equipment, maximize overall efficiency, and optimize plant layout. And, they also work tirelessly to ensure installation and commissioning meet requirements and schedules.
For existing operations, we've invested in aftermarket services and supporting infrastructure to help plant operators manage risks. Our turnkey maintenance contracts guarantee minimum efficiencies of key equipment. Monitoring and preventative maintenance service plans make sure plant availability and throughput goals are achieved.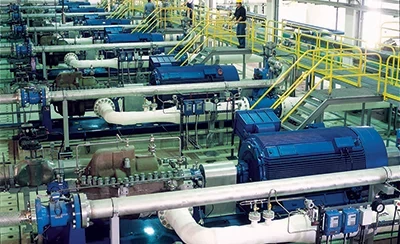 For millions of people in Cyprus, our end-to-end solution quenched their thirst — at an even lower cost.

The Cyprus Water Department needed to improve the efficiency of the Larnaca Desalination Plant to offset increasing energy costs. By upgrading the plant with state-of-the-art technologies, including improved high-pressure pumps and DWEER ERDs, Flowserve was able to beat their performance goals.
A complete, integrated flow control system
By bringing together industry-leading pumps and valves, high-efficiency ERDs, unmatched materials expertise and desalination-specific application knowledge, Flowserve is a single-source provider of complete, integrated flow control systems for desalination plants around the world.
Having equipped water desalination plants for more than a half-century, we have the equipment and system expertise to meet these challenges.
Pumps
High corrosion resistance and energy efficiency are paramount to the selection of pumps for desalination. Flowserve offers the industry's widest selection of proven pump types in a full range of materials and hydraulics to maximize performance and minimize lifecycle costs.
Source water intake pumps
Brine recirculation pumps (MSF and MED)
High-pressure membrane feed pumps (SWRO)
Booster, second pass, backwash, flushing, potable water and auxiliary pumps (SWRO)
Energy recovery devices
In designing modern desalination water plants, high efficiency is a primary goal. This includes efficiency not only in energy consumption, but also energy recovery. Through its Calder brand, Flowserve offers the world's highest efficiency energy recovery equipment for reverse osmosis desalination.
Mechanical seals
Mechanical seals are integral to the reliable operation of pumps used in a desalination plant. The utmost care must be taken to specify the correct configurations and materials of construction to maximize uptime. Our expertise in metallurgy and the application of sophisticated mechanical sealing technologies in the toughest applications allows Flowserve to excel in extending mean time between failure (MTBF) of critical rotating equipment.
Valves
Desalination processes, particularly SWRO systems, require numerous valves capable of handling large volumes of water at high pressures. These valves must also be made of materials capable of resisting corrosion from chloride-rich water and the chemicals commonly used. Flowserve offers a complete range of valves to suit the diverse applications found in desalination.
Go inside the 3D Virtual Desalination Plant for consolidated information on all the products we recommend. Explore Flowserve VirtualPlant.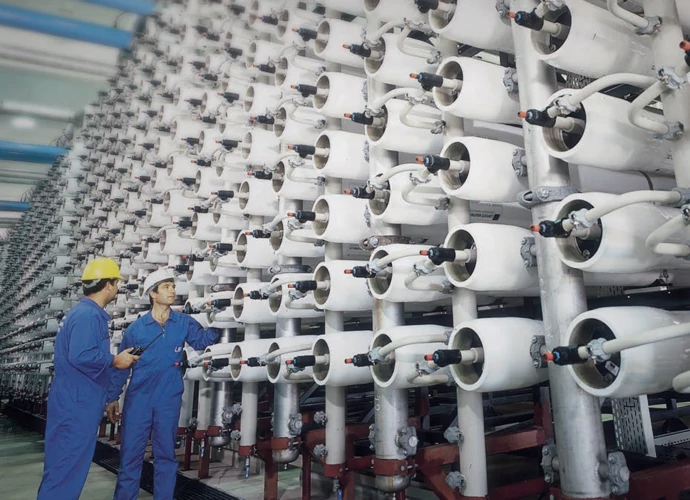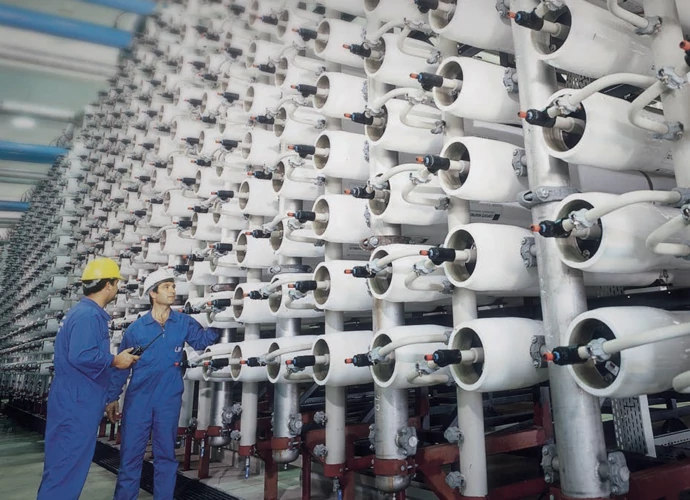 Water Desalination Plant Application Solutions Guide
A valuable reference for anyone associated with a desalination plant. This guide is written by Flowserve experts in desalination and details the Flowserve products best suited for providing flow control solutions to each specific plant application.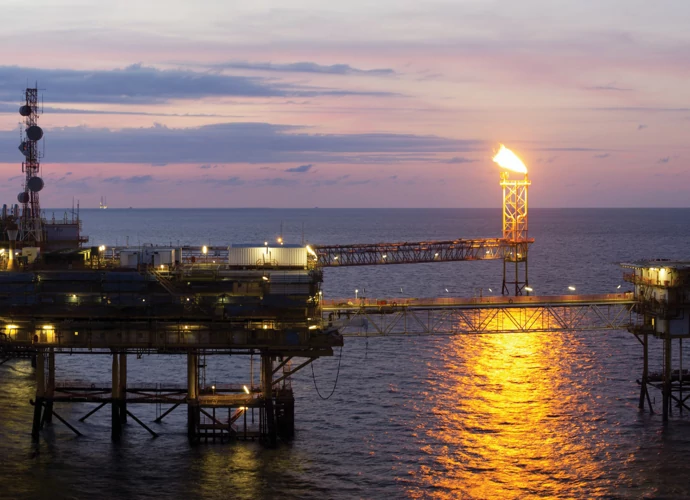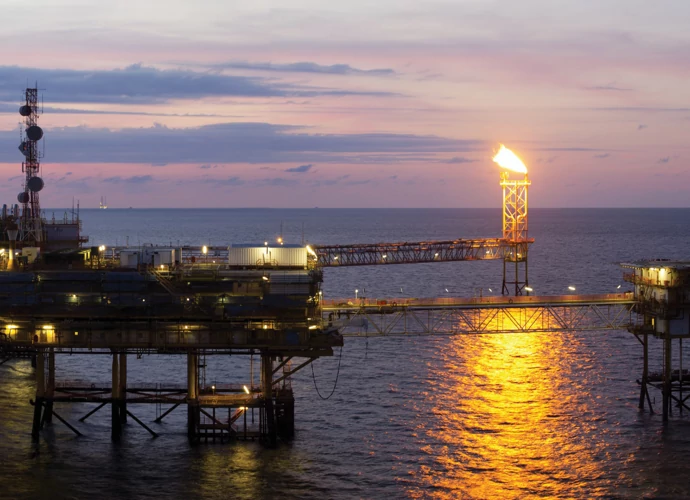 Safe and Efficient Flare Gas Recovery
As the desalination industry grows, there is a greater demand for reliable flare gas recovery systems to reclaim contaminated supplies. Learn how to evaluate and select the right liquid ring compressors to ensure reliable, efficient and safe flare gas recovery.