Product Announcements | OCTOBER 2021
Valtek® Multi-Z Anti-Cavitation Control Valve
Flowserve engineered the Valtek Multi-Z control valve to eliminate cavitation in high-pressure drop conditions. That makes it ideal for severe service processes with entrained solids, cavitation or erosion in these industries and applications:
All plants

High-pressure liquid letdown
Pump recirculation

Oil refining

Amine letdown
Cold separator
Feed charge pump
Gas treater letdown
Glycol dehydrator letdown
Hydrotreating sampling

Power generation

Boiler feed pump recirculation
Charge pump recirculation
Feedwater start-up regulator
Seal pressure control
Water injection pump recirculation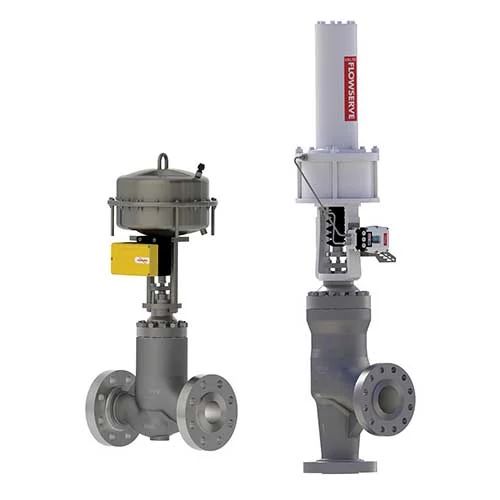 Tailored to meet uniquely demanding performance requirements
The updated Multi-Z valve is available in globe and angle configurations and multiple material options, enabling it to be tailored to meet specific application requirements. It features a multistage trim design and is available with several staging options. The axial flow design of the Multi-Z valve utilizes large passage sizes, allowing it to pass much larger particulate than typical drill hole or stacked disc technologies.
Ideal anti-cavitation replacement that avoids costly safety recertification
The updated Multi-Z valve with standard trim has verified valve flow capacities (Cv) through computational fluid dynamics (CFD) and testing that exactly match commonly accepted industry capacities. This enables operators to replace existing valves and avoid an expensive and time-consuming re-evaluation of the safety relief systems in a management of change (MOC) review.
Solids and cavitation completely under control
Flowserve designed the Valtek Multi-Z valve to accommodate solids in liquid media, minimize high sound levels, tolerate high temperatures, eliminate cavitation formation, and resist corrosion.
Global availability
The Multi-Z valve is available globally with production sites in Germany, India, UEA and the United States.
Prompt local support
Operators receive prompt engineering, sales and aftermarket support for the Multi-Z valve anywhere in the world.