Decoking System - Control system
Search Sales Contacts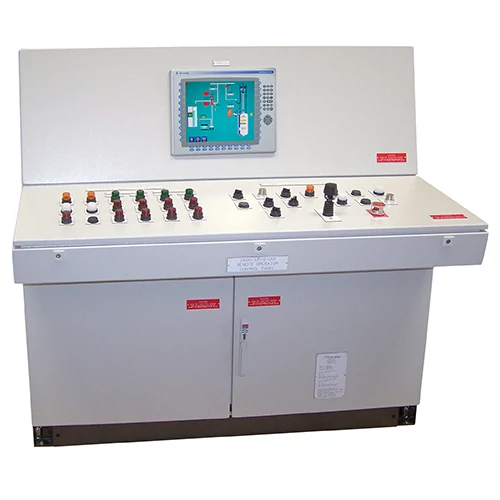 About this product
The basic control system includes a master control panel located near the pump train, a cutting deck panel for each pair of drums, as well as upper and lower proximity switches to monitor crosshead travel and tool position inside the drums.
Flowserve coke drum vibration, video and audio monitoring systems are available to provide coke cutting personnel with positive confirmation that the coke has been removed. It allows the operator to advance the cutting tool at the earliest opportunity, reducing the total time needed to clean the drum. The monitoring system can be integrated with the decoking control system for maximum ease of use or provided as stand-alone options.
Control systems are engineered to international standards as well as customer requirements and may include: operator console, operator shelter, vibration monitoring, video monitoring, audio monitoring, tool position, cable tension and drill stem rotational speed indicator.
Flowserve's decoking system is fully integrated. Watch these videos to see our individual components.
...
Read more
Read less
The standard control system provides:
Monitoring of the pump train and lube oil system with permissive starts, vibration and temperature alarms, and shutdowns
Safety interlocks for the drill stem, decoking valve and isolation valves
Disabling of the hoist at high and low in-drum positions when cutting is in progress
Display of cutting tool elevation and drill stem position
Hoist cable tension with under and over tension setpoints that disable hoist movement
Discharge pressure of the pump
Rotational speed indication of the drill stem

Options
Integration of TUD to cutting system controls, thereby eliminating the need for two PLCs
Triple modular redundant processors
DCS communication
Flowserve RedRaven drum monitoring to assure complete cutting
Remote and automated cutting capabilities

Vibration monitoring
An essential part of remotely operated coke cutting systems from Flowserve
Permanently mounted vibration sensors provide a high signal-to-noise ratio to provide more accurate readouts.
RedRaven processes vibration signals and provides clear visualization of coke removal status.
Complete integration with the decoking control system enables full automation of the cutting process.
Operator display indicates:

Drum cleanliness
Cutting tool position
Cable tension
Drill stem rotational speed
Control valve position
Drum selection
Diagnostic information

Audio monitoring
An essential part of remotely operated coke cutting systems from Flowserve
Provides the familiar noise operators have relied on for decades to confirm a clean drum
Converts the vibration signal from the vibration monitoring system to an audio noise in the cutting shelter

Video monitoring
An essential part of remotely operated coke cutting systems from Flowserve
Area-rated video cameras are placed on the cutting deck to give the operator a view of the top of the coked drum.
Cameras also monitor the chute to provide feedback on drum cleaning, while others provide a view of cutting operations from across the coke pit.
Proven thermal camera technology is available for steamy environments to help see the coke, even when the naked eye fails.
All cameras have full tilt and pan capabilities and deliver video signals to remote cutting locations on two or more monitors.
UL, CSA, IEC as applicable