Product Announcements | FEBRUARY 2021
Logix™ 3800e Digital Positioner
When you need to precisely control processes and yields at low costs, the Logix 3800e positioner from Flowserve is the right choice. The value-based digital valve positioner is well-suited for use with control valves and is available in multiple housing options for different certification requirements, making it highly versatile and ideal for a broad range of applications.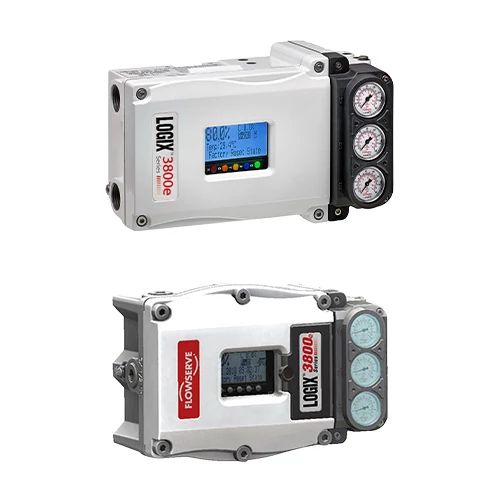 Cost-competitive valve control optimizes flow rates, simplifies configuration, and improves reliability
Flowserve designed the Logix 3800e positioner as a cost-competitive alternative to our proven Logix 3800 digital positioner, which features a full set of diagnostic capabilities. We offer the Logix 3800e positioner with fewer diagnostics, yet it provides the same levels of quality, reliability and simplicity.
Safety certifications for the Logix 3800e positioner include ATEX, IECEx and FM/CSA explosion-proof, intrinsically safe, non-incendive and SIL 3 capable. In addition, the digital positioner has received HART 6 and 7 and 4-20mA communications certifications.
Target applications
Oil and gas
Petrochemicals
Pulp and paper
Enhance reliability
Optimize process uptime and flow rates in challenging environments with three rugged housing options and a modular design that protects against dirt and water ingress (IP-66), impact and vibration.
Improve safety and economy with housing options
Ensure safe, reliable operation in hazardous conditions. The Logix 3800e digital positioner is available with an explosion-proof or an intrinsically safe housing from -40°C to 85°C (-40°F to 185°F). It's certified for use in explosion-proof Exd IIC hazardous locations. An economical housing with plastic cover is also available for general purpose applications.
Lower procurement and operational costs
Gain the quality, reliability and simplicity of the proven high performance of the Logix 3800 digital positioner offered in a cost-competitive version.
Easily configure and calibrate
One-button setup automatically configures the zero, span and gain of the Logix 3800 digital positioner for most valves in less than 60 seconds.
Monitor asset health
Log and pinpoint valve problems with the Logix 3800e positioner, which has a simplified diagnostic set compared to the Logix 3800 positioner. Connectivity with the RedRaven platform helps reliability engineers, operators and maintenance personnel not only monitor but also predict equipment and system behavior.
Look to Flowserve for industrial applications solutions
Oil & Gas Downstream Processing
With little margin for error and millions of dollars at stake, choose the partner that delivers optimum reliability.
LEARN MORE