Flowserve Celebrates International Women's Day
Associates around the globe gather to recognize and encourage women in business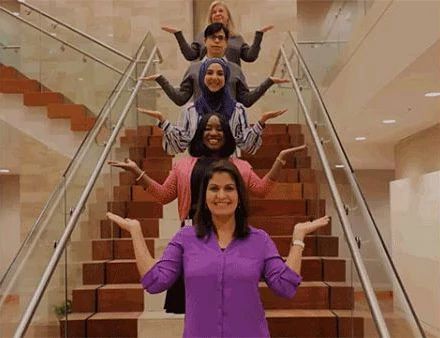 Associates around the globe gather to recognize and encourage women in business
Flowserve associates around the globe celebrated International Women's Day (IWD) on Friday, March 8. Numerous celebrations were office-wide events, and all associates were invited to join an international WebEx hosted by the corporate women's employee resource group (ERG) in Irving, Texas.
Christine Strobush, the global leader of the women's ERG, was extremely pleased with the company-wide response. "Together, we made history through the launch of our first global IWD event at Flowserve." An online participant poll reported that while the majority of attendees were female (62 percent), men were well-represented (38 percent).
"Balance for better"
The theme of this year's IWD was #BalanceForBetter, which participants were encouraged to use in social media posts. "A balanced world is a better world," said Strobush. She pointed out that this theme is consistent with Flowserve's purpose and values:
PEOPLE
Trust and value each other.

Develop each other, embrace differences, respect one another, and create a collaborative culture. The collective energy of our people sets us apart from our competitors.
The IWD website emphasizes that balance is not a women's issue, but rather a business issue. "The race is on for the gender-balanced boardroom and a gender balance of employees. Gender balance is essential for economies and communities to thrive," said Strobush.
Flowserve leadership perspectives
The global IWD event included the responses of Flowserve leaders to three questions about the role of women in our lives and the workplace. The following are selected answers:
1.    What does International Women's Day mean to you?
"IWD celebrates the many female pioneers in our society and our lives who changed the way we work and have made our ecosystem more resilient." — Tauseef Salma 
"I hope to inspire girls and young women to achieve future leadership positions, and to support women in their current endeavors as they seek their definition of success." — Valerie Henderson
"I am a big believer that diversity of background, thought, gender, race, religion and nationality is an important part of a successful global business." — Scott Rowe
2.    Who has been the most influential woman in your career and why?
"Watching my mother achieve goals and accolades in the journalism industry, which were unheard of at that time, encouraged me to strive for my goals with no ceiling in mind." — Elizabeth Burger
"My mother taught me integrity, humility, empathy, selfless service, ownership and accountability. And both she and my daughter have helped me center my personal work-life balance." — Kirk Wilson 
"From my earliest age, my mother set an expectation in my mind of equal partnership. She was a tremendously successful real estate developer and investor." — Keith Gillespie
3.    What is the business environment that you want the next generation of women to work in?
"Continued improvement of gender balance in science, technology, engineering and math (STEM) careers and senior leadership positions will bring incredible benefits to Flowserve and our people." — Christine Strobush 
"Sheryl Sandberg said, 'In the future, there will be no female leaders. There will just be leaders.' This is the ultimate equality statement, and the future that I see." — David Wilson 
John Lenander shared a story about living in a college dormitory named after the first woman to be elected as governor of Wyoming. "That made an impact on me: being from a rough-and-tumble state that elected the first woman governor and valued equality!"
The 2019 International Women's Day was a success by all measures. Congratulations and thanks to all the individuals who led, supported and/or participated in the day.