Single-Case Pumps - Axially Split - API - DVSH-RO
Search Sales Contacts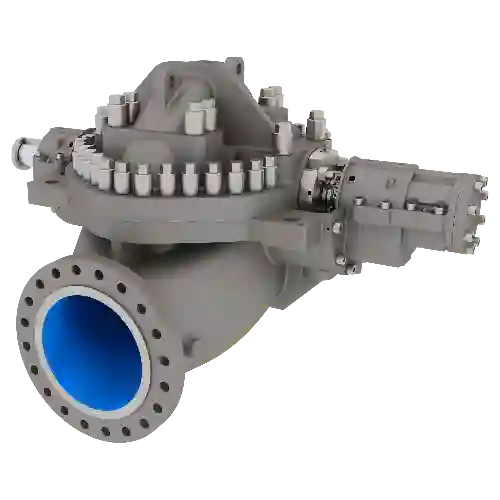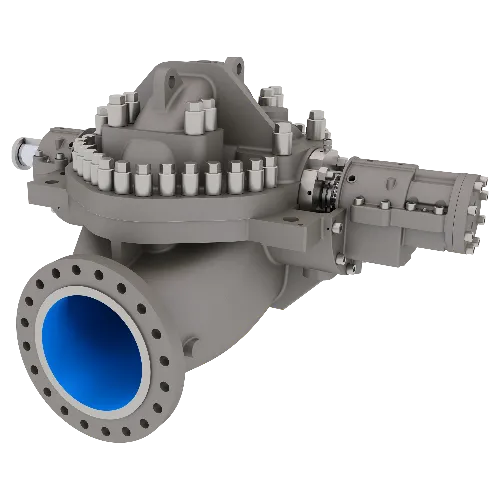 SubType
Single Case Pumps - Axially Split - API
About this product
Flowserve DVSH-RO single-stage, high-pressure membrane feed pumps are engineered to deliver high-efficiency operation and long-term reliability in heavy-duty seawater reverse osmosis (SWRO) processes. Based on the widely used DVSH ISO 13709/API 610 (BB1) pump, the DVSH-RO pump is configured to meet the specific performance demands of desalination processes. A side-by-side nozzle configuration and optimized hydraulics provide the best hydraulic fit to maximize operating efficiency and stability. Corrosion-resistant materials ensure long-term service life without degradation. The result is uncompromising reliability over a wide flow range.
...
Read more
Read less
Double-suction impeller provides axial hydraulic thrust balance and is designed for maximum hydraulic efficiency with minimal NPSHR. It is dynamically balanced to assure vibration-free operation as per API/ISO requirements.
Double-volute, axially split casing design minimizes hydraulic radial forces in any condition down to the minimum flow, thereby reducing shaft deflection and increasing the life of bearings, seals and wear rings.
Heavy-duty shaft design ensures trouble-free performance by operating under the first critical speed. The large diameter and short bearing span minimize deflection.
Suction and discharge nozzles are cast in the lower casing half to permit pump disassembly without disturbing the piping.
Nozzles are designed to handle external forces and moments equal to or in excess of ISO 13709/API 610 specifications.
Renewable wear rings provide hydraulic stability and high-efficiency operation. They also ensure the thrust bearings are properly loaded. Optional laser-hardened or non-metallic wear rings are available.
Generously sized seal chambers ensure there is sufficient liquid around the seal faces for optimal flushing and cooling.
Seal chambers accept single cartridge-type mechanical seals as well as double or tandem cartridge-type designs.
Flows to 7,000 m³/h (30,820 gpm)
Heads to 600 m (1,968 ft)
Pressures to 100 bar (1,450 psi)
Temperatures to 45°C (113°F)
Frequency of 50 or 60 Hz; compatible with VFD applications
For extended range, please consult with our specialists.
Sizes: DN 350 and 400 (14 and 16 in)
Pressure class: PN 90 (1,305 psi)
Materials:
Super duplex (A890, Grade 5A; PREN ≥ 40)
Optional Alloy 885 (PREN ≤ 40)