Wet Pit Pumps - VTP
Search Sales Contacts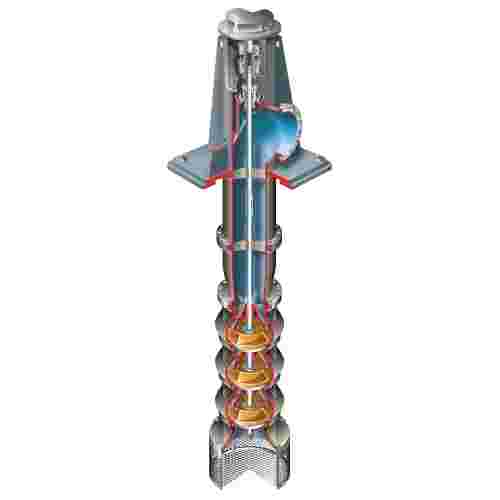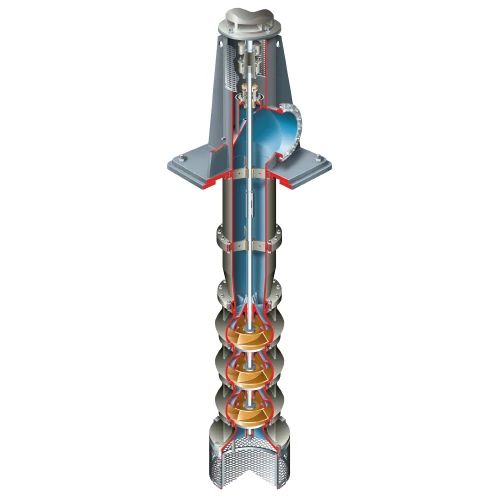 About this product
The Flowserve VTP vertical turbine pump is a diffuser-type, single or multistage design for continuous service in wet pit and deep well applications. With more than 250 models available, Flowserve VTP pumps are one of the world's most comprehensive lines of mixed-flow, vertical turbine pumps. Multiple design configurations and broad hydraulic coverage ensure you get a cost-effective solution that precisely meets your application requirements.
Legacy brands include:
Worthington
IDP
Byron Jackson
Western Land Roller
...
Read more
Read less
VTP pumps are available in a wide variety of configurations, constructions and materials to suit application requirements. Among the options are:
Standard and ISO 13709/API 610 (VS1), latest edition configurations
Open or enclosed lineshaft construction
Enclosed or semi-open impellers, keyed or collet mounted
Bowl and enclosed impeller wear rings
Cast iron or fabricated steel discharge heads
Sealing configurations for open lineshaft construction

Packed box with flexible graphite packing
Single or dual mechanical seal

Sealing configurations for enclosed lineshaft construction

Enclosing tube tension assembly for oil lubrication
Water injection packing assembly

Above ground or below ground discharge flanges
Multiple drivers

Electric motors, solid or hollow shaft
Engines with right angle gear drives
Steam turbines

Separate axial thrust bearing assembly
NSF61-G Certified
Short Coupled
Flowserve
Hydraulic Institute
AWWA E103
ISO 13709 / API 610
Flows to 13,600 m3/h (60,000 gpm)
Heads to 700 m (2,300 ft)
Pressures to 100 bar (1,450 psi)
Temperatures from -45°C (-50°F) to 300°C (570°F)
Sizes from 150 mm (6 in) to 1,375 mm (55 in)
Settings to 365 m (1200 ft)
Molten salt applications
A mixture of sodium nitrate (NaNO3) and potassium nitrate (KNO3), molten salt — like that used in concentrated solar power plants — possesses high thermal conductivity, allowing temperatures to reach 600°C (1,100°F). As a leading provider of molten salt pumps for more than 60 years, Flowserve understands the detrimental effects of heat distortion on a vertical pump. That's why Flowserve engineers utilize advanced thermal mapping software to ensure adequate heat dissipation and mitigate distortion.
ISO 13709/API 610 compliance
VTP pumps are available in a configuration that meets ISO 13709/API 610 standards. They are engineered for easy maintenance, high efficiency and long life in demanding applications found in the oil and gas and related industries. Key features include weld neck flanges; precision pump-to-motor couplings; a one-piece pump shaft; dynamically balanced, keyed, enclosed impellers; pinned wear rings; and API 610 forces and moments.
Barge stripping applications
Specifically designed for transportation barges, the Flowserve Barge Pump continues to be the premier brand used on inland and coastal waterways. It is a vertical self-contained, self-priming unit designed for barge unloading and transfer operations. With the high-efficiency Barge Pump, stripping turnaround times are kept to a minimum. Furthermore, its innovative pollution-prevention design inhibits costly oil and chemical spills.
Groundwater development
For irrigation and agriculture markets, pre-engineered designs, standardized materials and stocked components provide a reliable vertical turbine pump that minimizes price without sacrificing quality or performance.