How the Right Partner Can Help You Address Critical Desalination Challenges
To meet the growing demand for clean water around the world, additional desalination capacity will be needed for years to come. That will require significant capital expenditures from public organizations and governments as well as the private sector.
In addition, long-term operating expenditures — especially for energy — will be among the critical factors that influence the success of large-scale projects to convert plentiful seawater or brackish water into affordable and reliable supplies of potable water.
The price of desalinated water has trended downward in recent years, driven by requirements from desalination plant developers and owners for ever-lower costs per m3/gallons of desalinated water. How desalination plant operators can continue to meet these expectations will be determined by how they respond to the following six critical challenges:
Maximizing equipment efficiency to further improve power consumption
Optimizing plant designs and controls
Financing creative projects
Ensuring the reliability and availability of clean water
Producing consistently high-quality water
Partnering with suppliers who can provide the right equipment, services and technical long-term support
I spoke about these challenges — and promising solutions to address them — at Destination Innovation 2022, a virtual expo organized by Flowserve. Let me share some key insights and recommendations from that presentation.
Efficiently control energy use and costs
Desalination project contracts are often awarded based on the lowest proposed water tariff. Most of those contracts have a duration of 20 or more years, so the upfront capital expenditures to design, construct and commission a desalination plant are thoughtfully specified and managed. But operating expenditures over the total desalination lifecycle can significantly outweigh the initial investment.
In fact, the energy consumed by pumps in the seawater reverse osmosis (SWRO) desalination processes that separate salts and other dissolved solids from water represents the biggest energy expense. It can add up to as much as 40% of the overall cost of the water, according to the U.S. Environmental Protection Agency (EPA).
Therefore, operational efficiency is highly important to desalination plant operators. I'm proud of the fact that Flowserve is the first supplier to deliver a single-stage, high-pressure pump to SWRO desalination plants with efficiencies above 90%. The DVSH-RO high-pressure membrane feed pump features a side-by-side nozzle configuration and optimized hydraulics that provide the best hydraulic fit to maximize operating efficiency and stability. Corrosion-resistant materials ensure long-term service, and the result is uncompromising reliability over a wide flow range.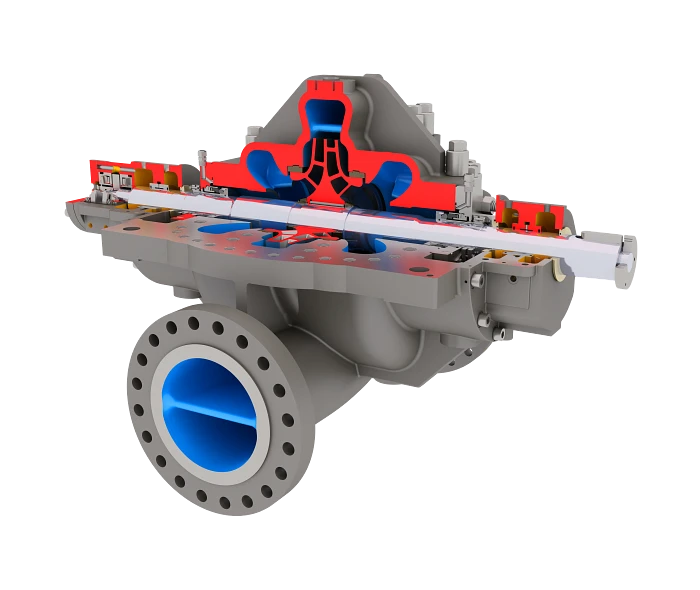 Reliably meet all desalination applications and configurations
The DVSH-RO pump is one of several pumps that Flowserve offers to meet the specific requirements of the desalination industry. It helps to solidify us as a single-source supplier with a comprehensive product portfolio to suit the varying demands of all desalination applications and plant configurations.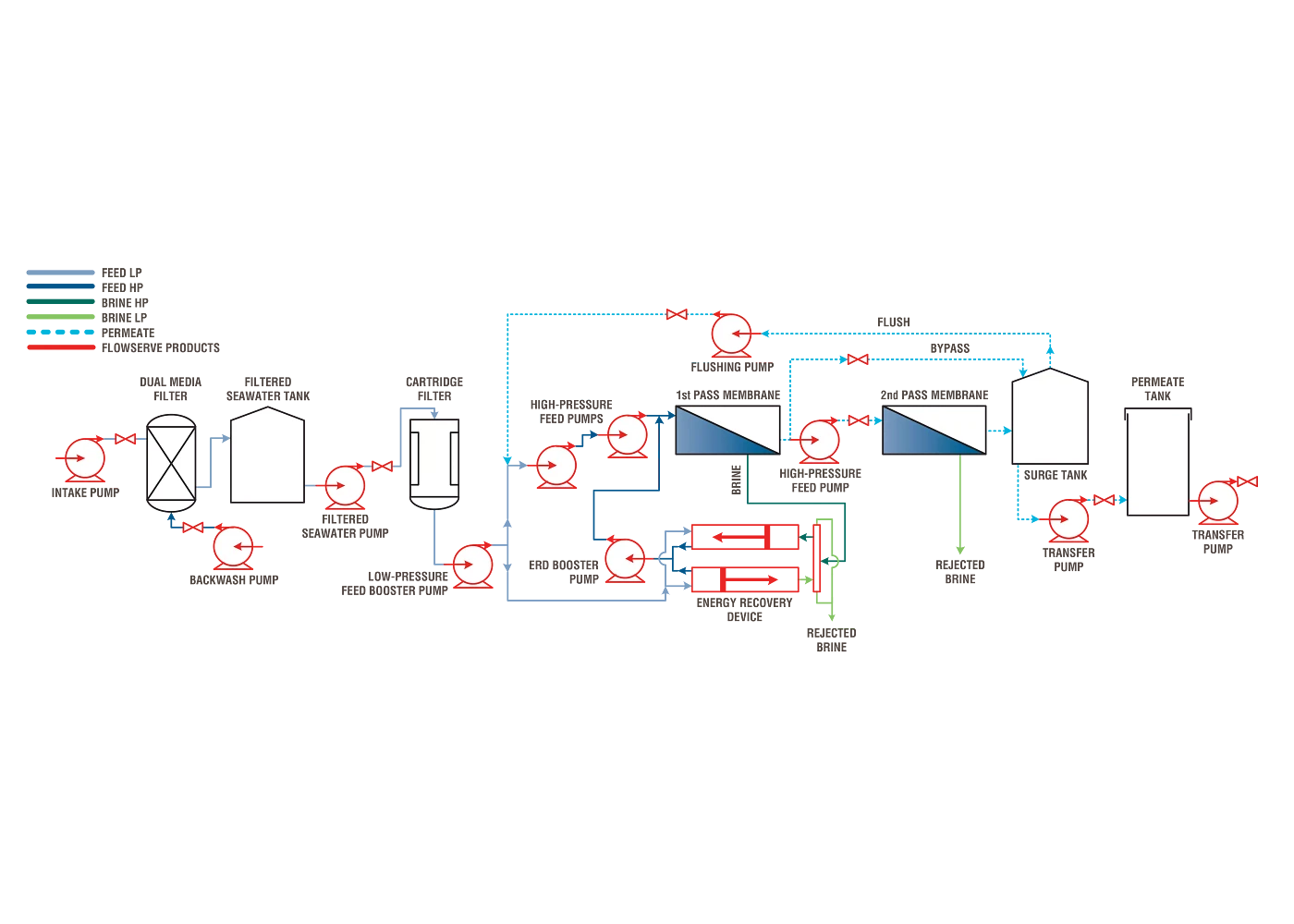 Consistently produce high-quality water
When designing advanced desalination plants, cost-effective water production and system availability and reliability are important considerations. Desalination plant developers and owners should look for an expert partner to consult with them and deliver complete, integrated flow control systems that are energy-efficient and scalable. This partner should possess deep industry knowledge and engineering prowess which desalination plants can leverage to operate economically and grow with demand.
Regardless of the desalination process, you can successfully lead projects with the support of a partner like Flowserve who offers specialty equipment and aftermarket services that keep key flow control processes running smoothly. Pick a partner who offers:
Unparalleled experience in the design and operation of high-efficiency fluid motion and control systems
A single point of contact and responsibility for all major equipment, including pumps, ERDs, valves and mechanical seals
Equipment and system optimization to provide the lowest total-cost solution
Engineering and technical resources for application support and ongoing lifecycle cost-reduction services
Local support of parts, repairs and services through a global network of Quick Response Centers (QRCs)
Condition monitoring and maintenance contracts that guarantee the availability and efficiency of equipment
Educational services that train your company's operators and technicians in the selection, operation and maintenance of pumps, ERDs, seals and valves
Power consumption is a main contributor to water cost. It is key to carry out periodic maintenance during the complete lifecycle of the equipment, maximize the quality and efficiency of the equipment, and avoid unforeseen loss of production.
Identify your expert partner with these questions
During my Destination Innovation 2022 presentation, I highlighted the characteristics and expertise of the ideal flow control equipment provider. Ask these nine questions to determine whether the supplier is a good match for your desalination project:
Does the supplier have desalination specialists based in your region, with additional engineering support available globally?
Will the supplier review and comment on process requirements and specifications to ensure the best design and equipment selections?
Can the supplier analyze process designs and propose options or alternatives that optimize performance and efficiency?
Does the supplier offer recommendations that enable you to better manage or reduce capital expenditures and operating costs?
How does the equipment proposed by the supplier work as a system with its products as well as equipment from other original equipment manufacturers (OEMs) in your facility to enhance efficiency and reliability?
Does the supplier offer equipment options that enable you to achieve best overall process performance over a complete range, and not only at the best efficiency point (BEP) of the equipment?
How will the design and materials of construction of the supplier's products (i.e., hydraulics) be optimized to address unique project requirements, especially in large-scale desalination plants?
How does the supplier continuously improve its products and engineering processes based on changing needs across the desalination industry?
Can the supplier back up the above answers with long-term experience and references in excess of 20 years?
Maximize efficiency with a system approach
Global demand for clean water continues to accelerate, and municipalities and industries are looking for reliable, energy-efficient desalination solutions. The conversations during and after Destination Innovation 2022 make it clear that desalination project developers and owners need technologies and support services that enable them to cost-effectively bring safe water to communities.
Whether for potable or industrial use, you will find Flowserve's pumps, valves and ERDs at work in desalination plants all over the world. Our products provide high efficiency and long-term reliability that result in increased uptime with low cost of ownership.
For example, the versatile DS-RO auxiliary service feed pump from Flowserve is well-suited for desalination support services, including filtered water, low- or high-pressure feed boosting, and potable water backwash.