API Process Pumps - HPX-V
Search Sales Contacts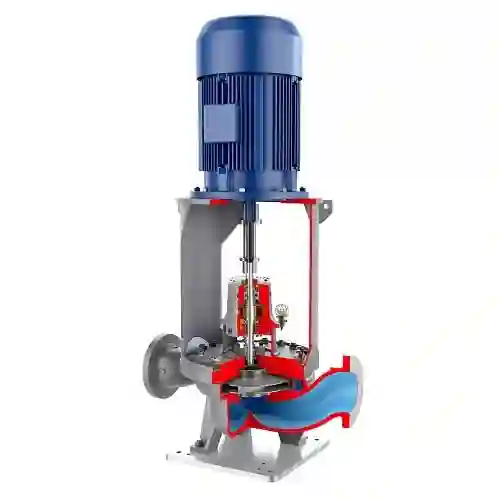 SubType
API Process Pumps
About this product
The HPX-V vertical inline process pump allows you to save space without giving up performance. Its rugged ISO 13709/API 610 (OH3) construction and compact footprint make it ideal for high-pressure, high-temperature applications where installation space is limited. It is engineered to reliably withstand the tough operating conditions often found in the oil and gas and hydrocarbon industries.
Based on the widely used Flowserve HPX horizontal process pump — a long-time workhorse of the oil and gas industry — the HPX-V pump uses the same impeller as the HPX and has the same shaft diameter under its seal. This enables you to standardize impellers and seals across these pump lines, reducing spare parts inventories.
...
Read more
Read less
• In-line vertical casing withstands nozzle loads per ISO 13709/API 610 requirements to minimize shaft misalignment and extend rotor, bearings and seal life.
• Raised face flanges are to ASME B16.5 criteria for Class 300. Surface finish meets ISO 13709/API 610 standard (ISO and JIS flanges are available)
• Casing and cover feature a metal-to-metal fit with a fully confined controlled compression gasket to ensure proper sealing and alignment.
• Suction nozzle guide vane reduces inlet vortexing and ensures a reliable NPSH margin.
• Dynamically balanced precision cast impeller minimizes vibration to ensure smooth operation over a wide flow range.
• Renewable casing and impeller wear rings reduce parts costs. Back wear ring is standard on all pump sizes. Optional arrangements and materials available.
• ISO 21049/API 682 seal chamber accommodates a wide variety of seals, including dual pressurized and unpressurized cartridge types for the most severe services. A full complement of API 682 seal flush piping plans is available.
• Shaft design is well within ISO/API shaft deflection and run-out criteria.
API 610 (OH3), latest edition
ATEX Directive 94/9/EC
CE Mark
• Flows to 1200 m3/h (5200 gpm)
• Heads to 325 m (1070 ft)
• Standard pressures to 42 bar (600 psi)
• Temperatures from -40°C to 400°C (-40°F to 750°F)
Size range: From 1.5HPX6A-V (smallest) to 10HPX21A-V (largest)
Standard pressures to: 42 bar (600 psi)
API material classes: S6, S8, C6, A8, D1, D2