Wet Pit Pumps - AFV
Search Sales Contacts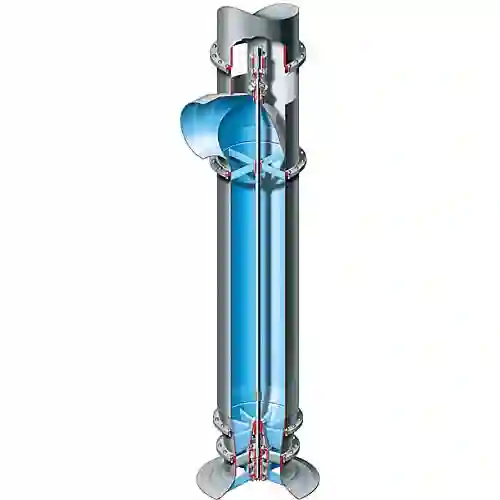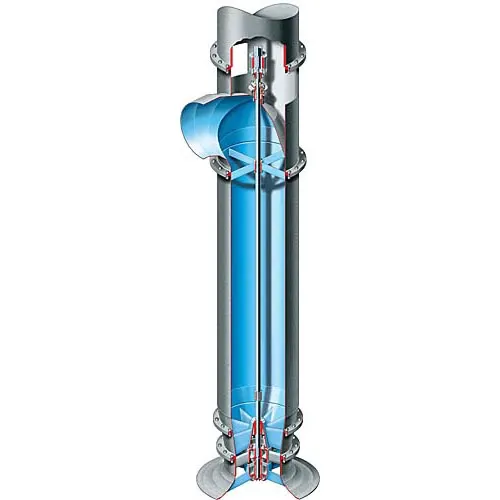 About this product
The Flowserve AFV axial flow suspended shaft vertical pump is a single stage propeller type design. This family of pumps is specifically designed for low head movement of water for a multitude of municipal, agricultural and industrial services.
...
Read more
Read less
Three- or Four-Vane Axial Flow Propeller is hydraulically balanced via pressure equalizing balance holes and a top propeller hub wear ring to reduced axial down thrust.
Outer Flanged Columns are bolted together with through bolts for ease in assembly.
Alignment is maintained via centering fits on all parts.
Flared Suction Bell provides a smooth waterway entrance to the impeller and has integral splitters to reduce inlet swirl and entrance losses.
Stator Case With Integral Diffuser Vanes may be either a single-piece casting or a fabrication.
Discharge Elbow may be located above or below ground and at any outlet orientation.
Seal Chamber accepts packing or mechanical seal to suit service requirements.
Flowserve
Hydraulic Institute
AWWA E103
Flows to 181 700 m3/h (800 000 gpm)
Heads to 11 m (35 ft)
Speeds to 1770 rpm
Size Range:
Sizes 200 mm (8 in) to 3.1 m (123 in)
Settings to 8 m (25 ft)