API Process Pumps - HPX-Mag
Search Sales Contacts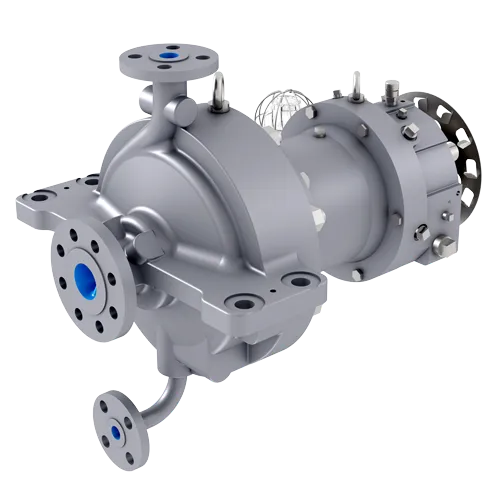 SubType
API Process Pumps
About this product
The HPX-Mag sealless pump is based on the proven Flowserve HPX API 610 process pump. It is a horizontal, overhung, single-stage, radially split, end-suction, top-discharge, centerline-mounted pump with a high-efficiency magnetic coupling. This versatile pump provides outstanding leakage protection and can handle the high pressures, temperatures and aggressive/toxic media often found in the oil and gas and hydrocarbon industries. The HPX-Mag magnetic drive pump is in full compliance with the API 685 standard.
...
Read more
Read less
Robust construction meets or exceeds API 685 requirements, ensuring zero emissions in difficult-to-seal, toxic, aggressive and flammable liquids.
Hermetically sealed design eliminates the need for mechanical seals and external flushing systems.
Dynamic thrust-balancing system limits vibration and assures smooth operation over a wide flow range.
Increased mean time between maintenance (MTBM) reduces downtime and maintenance costs.
Back pullout design simplifies maintenance activities and reduces labor costs.
Extensive hydraulic coverage enables precise selection for the highest operating efficiency.
Parts interchangeability with HPX API 610 pump reduces parts inventory and carrying costs.
API 685 2nd edition
Flows to: 1000 m3/h
Heads to: 300 m
Pressures to: 42 barg MAWP
Temperatures: 29°C to 300°C (84°F to 572°F)
Viscosity: 0.2 to 300 cP
Sizes: 1 to 6 in discharge; 7 to 15 in impeller
Pressure class: ASME #300
Materials: S6, C6, A8, D1, and D2