Decoking System - AutoShift™ Cutting Tool
Search Sales Contacts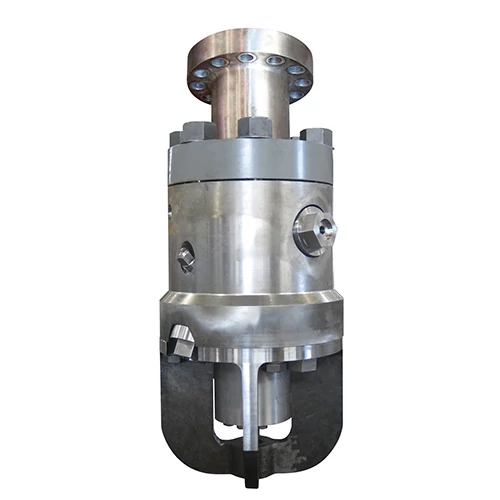 About this product
The AutoShift Slim cutting tool enables safe remote drum decoking by removing the operator from the cutting deck. Mode shifting is accomplished automatically and remotely by water pressurization and depressurization, not manually as with other tools. Benefits include:
Improved operator safety
Advanced system automation
Ease of maintenance with field-replaceable nozzles
Shifting flexibility to free "stuck" tools

An optional cutting tool enclosure (drill stem guide and shroud) provides an additional measure of safety by diverting dangerous water flow away from the cutting deck in the unlikely event a pressurized cutting tool is retracted from the drum or energized while stowed.
Flowserve's decoking system is fully integrated. Watch these videos to see our individual components.
...
Read more
Read less
AutoShift Cutting Tool
Improved Operator Safety – Remote operation eliminates operator exposure to high-pressure water, steam eruptions, H2S vapors and mechanical hazards.
Greater System Automation – Automatic shifting coupled with computerized controls and instrumentation enables total process automation.
Reduced Cycle Times – Automatic shifting within the drum saves 30 minutes or more per cycle.
Shifting Flexibility – "Stuck" tools can be freed up quickly within the drum by automatically shifting between boring and cutting modes.
Manual Shift Feature – If necessary, AutoShift can quickly and easily shift modes manually, as with traditional combination cutting tools.
Retrofit Cartridge Assembly – Existing Flowserve (e.g., Worthington®, Pacific) and non-Flowserve decoking systems can upgrade to AutoShift technology.

Optional Cutting Tool Enclosure
Fully enclosed 9.5 mm (0.375 in) thick carbon steel shroud
Open top allows steam and gas to escape in event of a hot spot blowout
Can be installed without field welding and without unit shutdown
Self-aligning design accommodates up to 305 mm (12 in) of lateral misalignment
Auto-latching/unlatching feature available; actuation by lowering and raising of drill stem is available
Loosely mounted on drill stem to permit insertion of the cutting tool into the drum