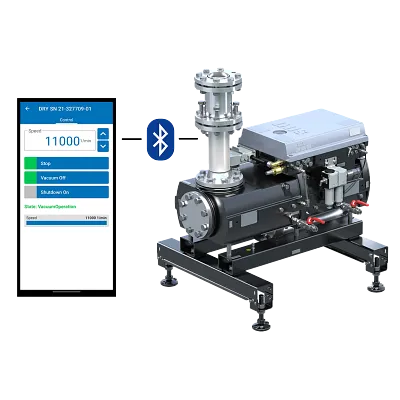 Set up, monitor and control SIHI Dry and SIHI Boost vacuum pumps with the SIHI BT-remote app for Android mobile devices.
Plant operators and technicians alike benefit by using the SIHI BT app because they can easily and securely connect to configure or change settings remotely. They also can monitor SIHI vacuum pumps using familiar touch-screen devices and commands. In addition, customers can access fast and reliable expert support from Flowserve specialists to help troubleshoot issues identified by the app.
A standard Android smartphone or tablet and an active Bluetooth connection are all that's needed.
default
Set-up and monitoring capabilities with expert support
The SIHI BT app provides a simple visualization of the operating condition and history of the stand-alone versions of SIHI Dry and SIHI Boost vacuum pumps equipped with an ACD 2 application controller.
In the app's default read-only mode, all relevant performance data can be accessed on these SIHI pumps, which typically do not have their own display screens. Operators and technicians can see important information about the current status of the pump, such as how fast it is rotating, which control mode is selected, individual sensor inputs and control signals.
In addition, visual error history helps technicians to quickly troubleshoot any equipment issues. If a system error occurs, operators or technicians can utilize the SIHI BT-remote app to identify the failure and email data about the issue to Flowserve support specialists. This access to our vacuum pump expertise and global resources enables customers to get their plants back into operation as quickly as possible.
Enter customer-specific parameters
For set-up and commissioning, customer-specific parameters can be entered through the SIHI BT-remote app.
Operators and technicians can open the pump case and move a switch to allow the app to change settings and write data to the pump controller. After set-up is completed, a user can switch access to the pump controls and data reverts back to read-only mode.