Safety Culture
Flowserve's commitment to safety is paramount for employees, customers, and communities
At Flowserve, we hold each other accountable for creating and maintaining safe workplaces and products for our associates, customers and communities. We all share the responsibility to support and live our safety value every day, especially during a time when our actions impact all of those around us.
"Safety is about more than just the physical safety of our associates at our facilities – it's about our overall well-being both in and outside of the workplace," said Scott Rowe, President and CEO at Flowserve. "When our associates feel safe and secure at work and at home, we can better build a culture where safety is engrained in everything we do."
Our commitment to safety can be traced back nearly 90 years when we joined the National Safety Council (NSC) and began participating in the NSC's safety awareness, training and improvement programs. This long-term commitment to decreasing workplace accident rates is reflected in almost 30 years of a declining injury rate and receipt of more than 2,400 NSC awards.
SAFETY
Create safe work places and products for our employees, customers and communities.
Embrace Flowserve's rules and hold each other accountable. We do this for ourselves, our customers, our partners and the communities we serve.
We create and maintain safe working environments, empower our employees to identify and report safety concerns, and act to correct hazards. Our Stop Work Authority procedure gives anyone the ability to stop work when they observe a potentially unsafe condition. By promoting a strong safety culture, we are committed to targeting zero accidents to make Flowserve a safer, better place to work.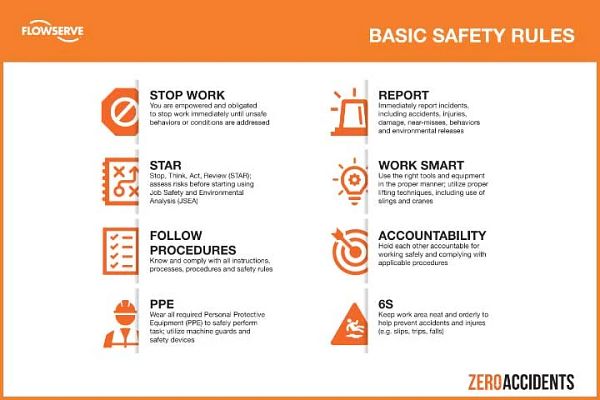 Flowserve prioritizes the mental health and wellness of its people
Mental health can impact our life with our families, our job performance and even our overall physical health. Key factors to Flowserve's approach to COVID-19 safety and management has included mental health and wellness. Now, we are proud to offer expanded resources for improving our associates' mental health and overall well-being through Optum, a leading wellness provider.
We're committed to safety habits at home and on site
Most unintentional injury-related deaths occur off the job, often when least expected, according to the U.S. National Safety Council. "With the best ideas, the right tools and everyone showing up to redefine what's possible, no safety challenge will be too big for us to overcome, from the workplace to anyplace, said "Lorraine Martin, President and CEO at NSC. That's why during Safety Week, Flowserve is building safety habits that extend beyond the workplace so our associates can stay safe no matter where they are.
Our culture empowers associates to embrace safety ownership
As a part of Safety Week, we are focusing on discussions and activities that can help us strengthen our safety culture, improve site performance and reach our goal of zero accidents. Continuously assessing the safety maturity of each of our sites will help us discover new ways to enhance overall safety. We encourage safety ownership of our work areas and work practices to ensure quality products are produced in the safest way possible. Learn more about Flowserve's safety culture.
Flowserve celebrates its commitments to health, safety and environment
Many Flowserve facilities have undergone the rigorous process for safety/environmental management and product certifications. Our TargetZero program strives for zero accidents, defects, delays, emissions and waste by driving continuous improvement, operational excellence and innovation. Our commitment to health, safety and environment is strengthened during Safety Week as associates across the globe participate in activities that are a critical part of improving local safety programs and reaching our zero accidents and zero emissions goals.