Helping Water Provider Meet Growing Demand in Arabian Peninsula
Pump restoration improves capacity and reduces costs
The utility company that regulates water and electricity services in the Sultanate of Oman, a country on the Arabian Peninsula, relies on a variety of rotating equipment to distribute potable water for human consumption as well as agricultural and industrial needs.
After conducting an on-site performance test, the utility company determined a Flowserve 300-LNN-750 pump, which had performed reliably for more than a decade, was slowing down and creating a chain reaction of issues:
Due to its loss of hydraulic efficiency, the pump required more energy to operate.
Diminished performance reduced the maximum amount of potable water the pump could move through the system.
The pump affected the supply network's ability to connect more remote villages and towns to the national water infrastructure.
To prevent a significant impact on the pumping station's ability to efficiently deliver potable water to its citizens, farmers and businesses, the utility company decided to take immediate action.
Restored to like-new operating condition
In coordination with the local distributor (Mazoun), the LNN pump was removed from service and sent to Flowserve's FAMCO (Flowserve AlMansoori) Quick Response Center (QRC) in Abu Dhabi, UAE, for a detailed inspection to identify the root cause of the performance issues.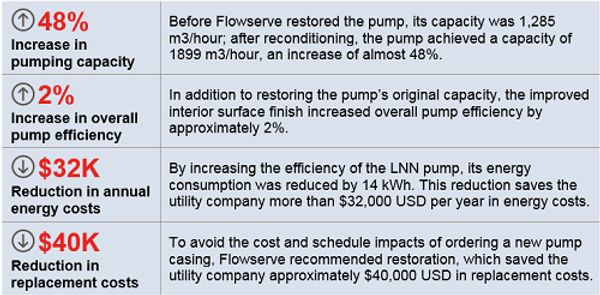 Flowserve pump specialists soon identified the causes of the diminished performance: minor corrosion of the casing material and a deteriorating volute surface, a result of pumping raw water for years.
Flowserve service technicians performed the following actions to restore the pump to near-original condition:
Grit-blasted the inside of the pump casing to remove existing corrosion.
Treated the pump casing with an epoxy-based coating and added a highly polished finish to the internal components to maximize flow rates.
Replaced seal chamber inserts, including a suction guide vane, to improve suction flow to the impeller eye.
Replaced worn components to re-establish clearances between stationary and rotating parts and recover losses in volumetric efficiency.
These restorations and improvements increased pump capacity and efficiency and reduced operating costs by $72,000 USD.