Flowserve's Al-Rushaid Facility Is Company's First to Receive Governmental Environmental Certificate
Leading the way to protect the environment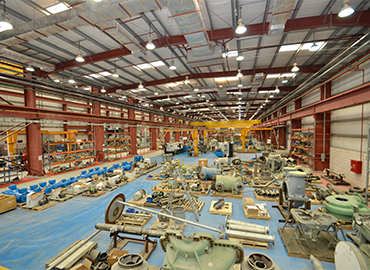 The Flowserve Al-Rushaid facility in Saudi Arabia recently received official certification of environmental compliance from the Kingdom of Saudi Arabia's General Authority of Meteorology and Environmental Protection (GAMEP). Al-Rushaid is the first facility within Flowserve and among its competitors in Saudi Arabia to receive this environmental compliance certificate.
GAMEP and environmental protection
GAMEP is responsible for controlling pollution associated with the development and operation of the industries working within the Kingdom of Saudi Arabia. It has developed and adopted regulations, standards and guidelines to control substances emitted, discharged or deposited as well as noise generated by industries. GAMEP also oversees a penalty system that is designed to deter violations and encourage compliance with the environmental regulations.
Certification process
The GAMEP certification process includes environmental screening, best available techniques (BAT) analysis, environmental impact assessment (EIA), environmental emergency response plan (EERP) review, and groundwater monitoring program and procedures evaluation. At Flowserve Al-Rushaid, GAMEP inspectors reviewed existing topographical, geological and meteorological conditions in air- and water-quality simulations. The process considered both normal situations and worst-case scenarios, helping to identify the maximum possible damage to the environment.
Al-Rushaid does not have groundwater, but it has an underground tank for collecting sewerage water and water from equipment cleaning operations. Aftab Hussain, manager of quality, safety, health and environmental affairs & continuous improvement process (SHEA & CIP), said, "The inspectors collected water samples and soil around the tank to test and analyze for any leakage. All results were acceptable."
Flowserve Al-Rushaid
Flowserve's Al-Rushaid facility is in the Al Khobar area of Dammam, which is situated on the Arabian Gulf and serves as the capital city of Saudi Arabia's Eastern Province. The office and plant serve chemical, oil and gas, power, water resources and general industrial customers in the Kingdom of Saudi Arabia and neighboring countries. The facility's Quick Response Center supports the service requirements of Flowserve and other manufacturers' pumps, ranging from large horizontal multistage and double-casing barrel pumps to a variety of vertical pumps.