Flowserve Distributes COVID-19 Relief Materials Throughout India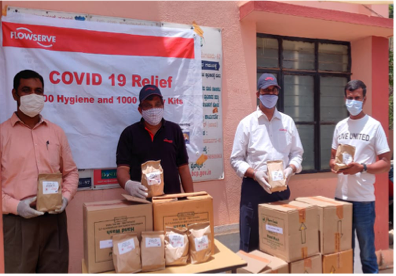 Volunteers Supporting High-Risk Regions Help Slow the Spread of COVID-19
Through the Flowserve Cares community impact program, we are always looking for ways to give back, improve people's lives and make a difference in the community. And never has this commitment been more critical than during the global COVID-19 pandemic.
Like many regions of the world, India has been fighting a war against COVID-19. With 1.3 billion people, India is home to one of the largest COVID-19 outbreaks on the planet. To help slow the spread of the disease, Flowserve volunteers recently partnered with the United Way to distribute thousands of relief supplies across Coimbatore, Bangalore, and Chennai. Additionally, Flowserve donated a vaccine van to bring supplies to communities in need.
Distributing Family Kits in Coimbatore
In Coimbatore, Flowserve distributed 2,000 "family kits" to individuals in Myleripalayam Village, which is located near our Coimbatore factory. With the support of the local government and the United Way, our associates distributed kits containing food, medicine, and safety equipment. The kits go a long way, helping approximately 10,000 people (considering an average of five members per family).
Equipping First Responders in Bangalore and Chennai
In Bangalore, the Whitefield Export Promotion Park Industrial Association, United Way and Flowserve associates distributed 500 hygiene kits to the local police force and 1,000 family kits to workers in the Whitefield neighborhood.
In Maraimalai Nagar, Chennai, volunteers also distributed vital medical supplies to the local municipality, police force and the Primary Health Center. These supplies, which included 10,000 cloth masks, 5,000 gloves, 500 PPE kits and 750 hygiene kits, are critical in slowing the spread of COVID-19.
Suppling Vaccines to Local Communities
Rural areas have no vaccination centers. Locals are unable or do not have the means to reach vaccination centers. Flowserve donated a vaccination van to the Bangalore State government. The vaccination van can carry eight vaccine boxes and six syringe boxes. These supplies provide up to 9,000 doses in a single trip.
Committed to Improving Communities Around the World
Flowserve and its partners are committed to improving the lives of children and families throughout the world. Distributing relief materials in high-risk regions, such as India, not only helps the local communities, but can also slow the spread of COVID-19 around the world.
Community Impact Program: Flowserve Cares

Flowserve Cares incorporates monetary donations, in-kind contributions and volunteer opportunities to help make a meaningful impact in the communities where our employees and customers live and work. Local sites are encouraged to select organizations that they can support in order to maximize the impact and drive employee involvement and engagement.