Industry-leading Efficiency and Reliability for Reverse Osmosis Desalination
Reliably and efficiently delivering clean water for drinking, plus agricultural and industrial applications, is a critical mission for reverse osmosis desalination plant operators. You can meet the world's urgent demand with the Flowserve FLEX™ isobaric energy recovery device (ERD), the most compact and efficient pressure exchanger available.
We designed the Flowserve FLEX to address the significant challenges facing the desalination industry, not the least of which is maximizing equipment efficiency to reduce power consumption. That's not the only issue. Desalination plant operators seek to optimize facility designs and controls in order to reduce total lifecycle costs. And, of course, producing consistently high-quality water and ensuring its availability are prime objectives.
Investing in the Flowserve FLEX pressure exchanger can help you meet all of these requirements.
Reducing the cost of producing clean water
The Flowserve FLEX combines the highest unit capacity on the market and a small footprint to enable operators to reduce the size of desalination facilities and minimize the required piping and couplings. It also enables high-pressure pump capacity to be reduced by about 60%. Together, these benefits can lead to significant capital cost savings. Energy consumption also is reduced. That's significant, as the high-pressure pumps represent the biggest energy cost in the seawater reverse osmosis (SWRO) processes. Generally speaking, the total cost of ownership can be minimized.
The Flowserve FLEX can recover more than 98% of hydraulic energy. That can provide you with an important advantage. Long-term operating expenditures — especially for energy — are among the critical factors that influence the success of desalination projects to convert seawater or brackish water into affordable and reliable supplies of potable water.
Ensure process uptime and minimize maintenance
Operating costs and the need for maintenance also are reduced by the simple design of the Flowserve FLEX, which contains only four major internal components and one moving part. The titanium housing and other corrosion-resistant materials ensure long-term service. Leak-proof, split vessels with only one casing seal also reduce maintenance.
And it's enabled for remote monitoring and predictive analytics through Flowserve's RedRaven internet of things (IoT) platform that enables operators to optimize performance.
Together, the design and features of the Flowserve FLEX provide high reliability and ensure uptime of critical desalination processes. We've proven that in successful operation of multiple units in desalination plants. Flowserve FLEX customers eliminated unplanned downtime in their installations and have experienced the significant benefits the Flowserve FLEX can provide.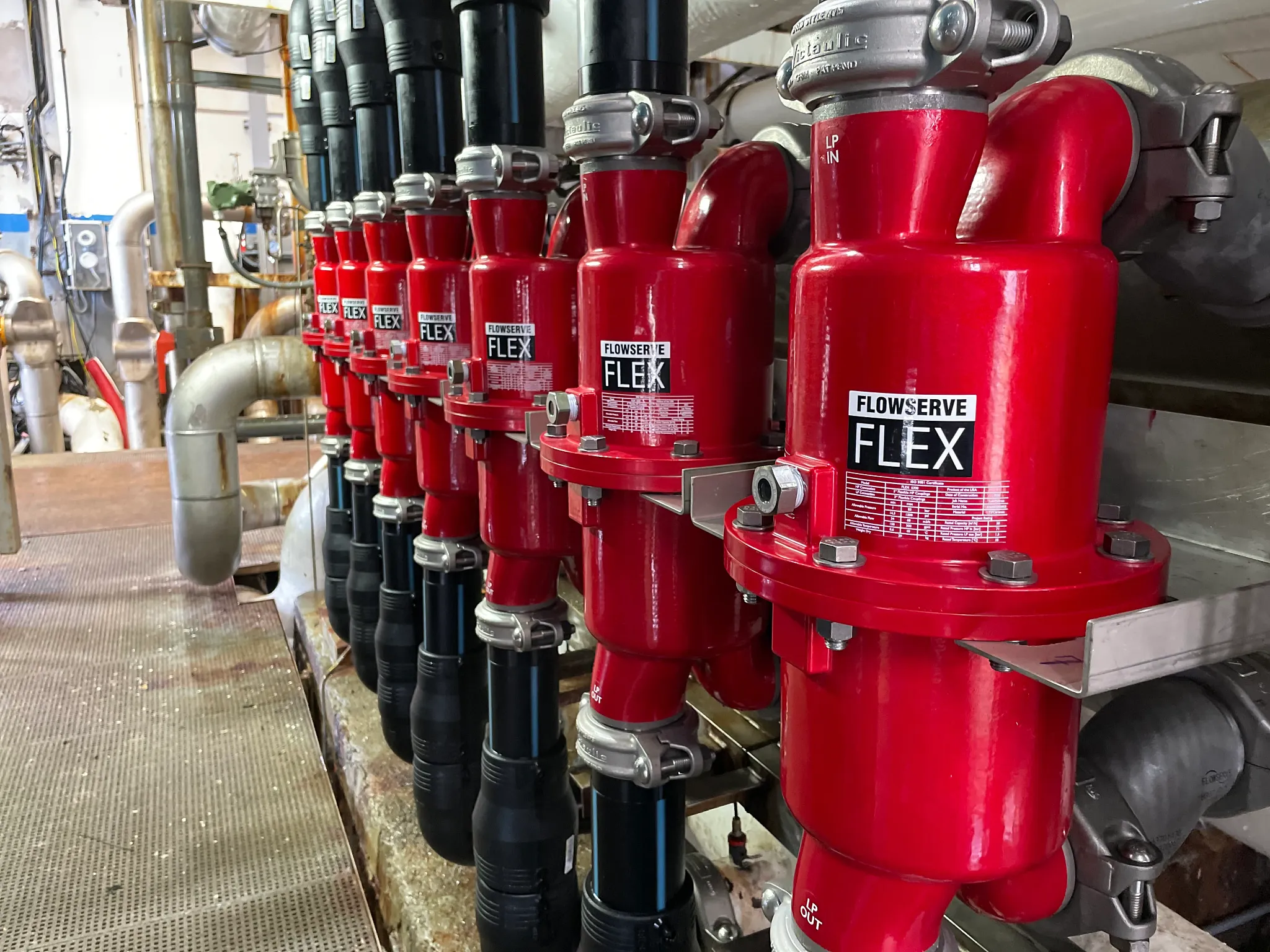 Flexibility and reliability for decades of service
Flowserve has long supported the desalination market with our equipment installed in a majority of the world's reverse osmosis plants. The introduction of Flowserve FLEX adds further value to customers:
Flowserve FLEX units can be installed vertically or horizontally to fit into your plant and process design. Multiple units can be delivered on a pre-installed rack to simplify installation.
The design incorporates smaller and less complicated headers along with fewer couplings to simplify installation and keep associated costs low.
An industry-leading, extremely low mixing rate results in lower membrane feed salinity and lowers high-pressure and booster pump power consumption.
An axle-guided rotor design significantly reduces lubrication flow requirements compared to other pressure exchangers, contributing to the industry-leading efficiency of the Flowserve FLEX.
The Flowserve FLEX is simple and cost-effective to integrate into your new installations or retrofit your existing plants. And its robust construction is engineered to provide your company with more than 25 years of trouble-free performance.
That's innovation and enhanced quality that will enable you to deliver clean water to those in need and make the world better for everyone.