Flowserve Supply Chain Transformation
Rethink each link: The journey to 2.0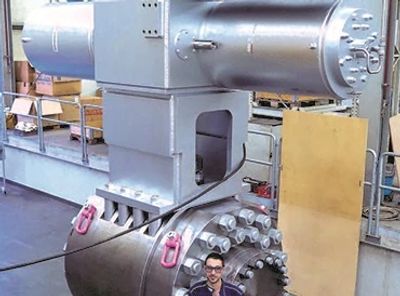 An oil and gas client was constructing a new floating production, storage and offloading (FPSO) unit. When they realized there was not enough space on the platform to accommodate the large conventional actuator selected to operate it, Flowserve's design allowed for construction of the FPSO to proceed according to the originally planned layouts and with no need for costly and disruptive redesign. "This result had everything to do with not just supply chain management," says Ronaldo Marques, Vice President, Supply Chain, "but supply chain in alignment with engineering and suppliers. Because when we work with engineering, we save significantly on materials.
Flowserve's Limitorque team has engineered an innovative turnkey solution for actuators operating in environments with limited space and weight requirements. The custom actuator design by Limitorque saved at least 2 meters (6.6 feet) and 2,000 kilograms (4,400 pounds) over the originally specified unit.
This story illustrates the continuous evolution of the processes that are now collectively referred to as "supply chain management." As a global organization, Flowserve is proud of its family tree that extends back more than 200 years, when acquiring raw materials and parts to produce industrial products operated on a wholly different timetable. And as the organization has grown through the strategic acquisition of respected pump, valve and seal brands, it has had to continually incorporate those company's business practices into its operations.
Integrating Global Supply Chain Management 2.0
Flowserve is underway on a three-year companywide initiative — called Flowserve 2.0 — that will examine and transform every area of the business. From a localized collection of supply chain operations, the company is actively migrating to a centralized, integrated and strategy-driven model that benefits Flowserve and its customers alike.
"As we transform our supply chain and integrate across all business units globally, we will simplify processes and save significant money." says Ronaldo. "We will apply ESSA: eliminate waste from double-handling, simplify processes and procedures, standardize, and then automate."
One area of change is how Flowserve will work with a reduced number of approved strategic and core suppliers. "We will align people, processes and technology with our key suppliers to create value in a flexible, strategic supply chain." To achieve this, continues Ronaldo, "We are going to deploy tools and systems to enable the supply chain data and then drive the accuracy and analytics — with an overarching mindset of continuous improvement and the ruthless elimination of manual process."
Linking Plants and Quick Response Centers to Customers
Due to the complexities and differences among industries, there is no one authoritative definition of supply chain management (SCM); instead, industries and companies usually define the practice as it best applies to their specific operations. This is how Ronaldo defines SCM at Flowserve:
Effective SCM at Flowserve encompasses the wide range of tasks required to provide products and services on-time and on-budget from Flowserve plants and quick response centers to our customers in the most streamlined and cost-effective way possible. This includes sourcing and purchasing raw materials, parts and equipment; enabling the manufacturing operations process of castings and forgings; and monitoring the assembly and delivery of products. Overarching all of these tasks is the myriad of detailed logistic activities that are required to maintain quality and minimize delays. Performing all of this on a global scale, including all indirect-spend and logistics in 11 major languages, requires extraordinary discipline in process and procedures.
Applying Technology to Enable Business Solutions
The goal of this SCM transformation plan, which has the endorsement of the board of directors, business unit presidents and senior corporate leadership, is to transform Flowserve's supply chain model into the most admired and competitive in the entire industrial manufacturing group.
This was recently illustrated at the Metalcasting Congress, where the Lost Foam Casting Division of the American Foundry Society recognized Flowserve with two awards:
Flowserve received the 2018 Industrial Contribution award for the Supply Chain Castings & Forgings team's advancement of new additive manufacturing technologies in lost foam and the improved use of lost foam for steel castings. The program was led by category manager Marshall Miller under the guidance of category director Manuel de la Parra.
Marshall Miller received the Technical Excellence award for his leadership and achievements in the use of additive manufacturing technologies.
This work will benefit Flowserve on a global scale, but especially its sites in Chesapeake, Taneytown, Pozuelo and Arnage through a 20-percent cost decrease in the production of iron, bronze, stainless steel and carbon steel castings.