Product Announcements | APRIL 2020
SIHI® Dry PD Mi Series Vacuum Pumps
Eliminate fluid purchasing and disposal costs, improve throughput times and process efficiencies
SIHI Dry vacuum pumps are specifically developed for use in chemical, pharmaceutical and other process applications requiring deep vacuum. Unlike conventional twin-screw vacuum pumps, SIHI Dry PD Mi Series pumps do not require fluids for sealing or lubricating. Their dry-running design eliminates fluid purchasing and disposal costs while allowing uncontaminated solvent and process vapors to be recovered downstream. Their advanced design helps reduce the time required to achieve target vacuum levels, improving throughput times and process efficiencies.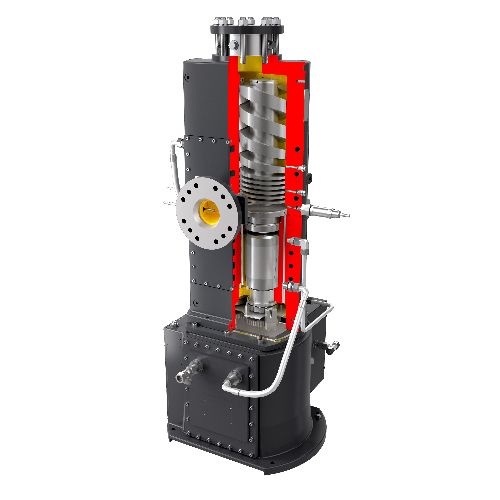 Corrosion-resistant operation
SIHI Dry vacuum pumps are designed to maintain a determined process temperature. Harnessing the heat of compression, process gases are held at temperatures above their condensation points to maintain the media as a non-corrosive gas.
Integrated drive control
The innovative drive concept of SIHI Dry pumps and its modular design enable the pumps to be configured to operate in a basic on/off fashion or provide fully integrated control for the needs of specific processes.
Continuous data logging
Integrated condition monitoring with pre-failure detection and data logging.
Improved uptime
The vertical configuration of SIHI Dry vacuum pumps provides a self-draining, top-down flow, so there are no stagnant areas in the pump casing for process carryover to build up. The pumps also automatically reduce speed to clear any blockages present, reducing the potential for failures and improving uptime.
Minimal environmental impact
Because SIHI Dry vacuum systems require no oil or service liquids, there is no risk of contaminating your process and/or discharge streams. This also enables you to recover uncontaminated solvent and process vapors downstream.
Explosion-proof design
The dry vacuum pumps have an explosion-proof design and meet Class 1, Division 1 and 2, and Zone 1 requirements.
Low noise and vibration
Operating at maximum noise levels of less than 70 dB(A), SIHI Dry vacuum pumps are the quietest on the market. The pumps' low noise and vibration eliminate the need for special foundations and help you comply with industry noise standards.
Zero scheduled maintenance
SIHI Dry vacuum pumps don't require scheduled maintenance because their integrated VFD and load control continuously monitor and adjust to key conditions. This reduces the labor, costs and downtime associated with pump maintenance.
Simple on-site service
The vertical design and cantilevered mounting of the spindle assembly enable SIHI Dry vacuum pumps to be cleaned without dismantling and allow most repairs to be performed without removing the pump from the system.
Look to Flowserve for industrial applications solutions
Pharmaceutical Chemicals
Precision, expertise and support for a wide range of applications are the hallmarks of our solutions for pharma.
LEARN MORE
Fine & Consumer Specialty Chemicals
For solutions that offer maximum versatility, adaptability and reliability, choose the partner with experience in batch chemical processes.
LEARN MORE