Product Announcements | MARCH 2020
Limitorque® LTQ Compact, Quarter-Turn Electric Actuator
Achieve maximum reliability and performance
Flowserve Limitorque LTQ compact, quarter-turn electric actuators are designed for maximum reliability and performance to help you reduce unplanned downtime and minimize ownership and maintenance costs. The actuators are available in a broad range of control options, torques, voltages, fail-safe options and position feedback capabilities so you can customize a solution to meet your specific needs.
These actuators are compatible with a variety of ball and butterfly valves and also can be used to drive dampers in a wide range of power, oil and gas, chemical, water and general industry applications.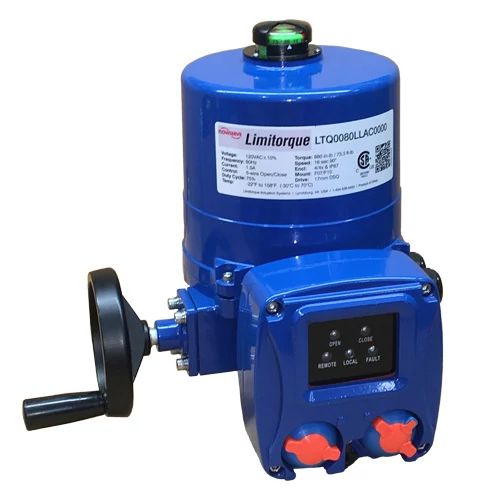 Superior reliability, performance and repeatability
The actuator's robust design incorporates a highly efficient, compact epicyclic drive transmission technology that provides unmatched multiplication of motor torque. It also reduces wear and tear and extends the life of the actuator considerably in comparison to worm- or spur-type mechanical drives.
Lower total cost of ownership
A self-locking design with a permanently lubricated drive eliminates the need for periodic lubrication and allows for maintenance-free operation over the life of the actuator.
High degree of customization
LTQ actuators are available in a range of torques from 35 to 2,230 Nm (310 to 20,350 in-lb), operating voltages from 12 VAC/VDC to three-phase 575 VAC, and fail-safe (super-cap and battery backup) options that allow for a higher degree of customization to meet exacting customer needs.
Control variety
Actuator control options are available in analog modulation, local control stations, and discrete two-, three-, four and five-wire control configurations that can be powered internally or externally by 24 VDC or 110 VAC.
Look to Flowserve for industrial applications solutions
Organic & Inorganic Basic Chemicals
Look to Flowserve for solutions that can improve your bulk processes and sustain operations between catalyst or vessel maintenance.
LEARN MORE