Product Announcements | SEPTEMBER 2019
HPX-Mag Magnetic Drive Pump
The HPX-Mag pump is a sealless, horizontal, overhung, single-stage, radially split, end-suction, top-discharge, centerline-mounted pump with a high-efficiency magnetic coupling. The pump is based on the universally proven hydraulic design of the HPX API 610 pump.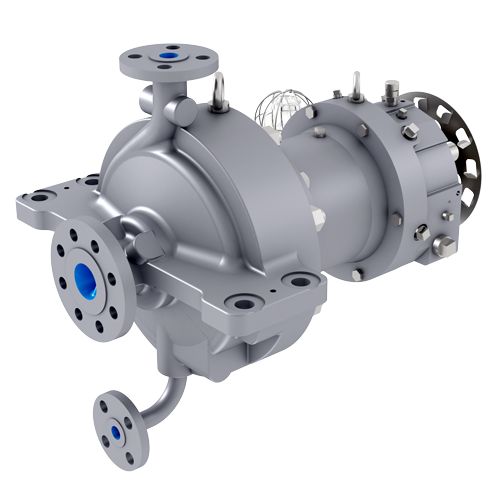 Balance sustainability, reliability and efficiency
Because it uses sealless technology, the HPX-Mag pump offers users a way to balance sustainability and performance needs in environmentally critical applications. This versatile pump provides outstanding leakage protection and can handle the high pressures, temperatures and aggressive/toxic media often found in the oil and gas and hydrocarbon industries.
Complies with API 685 standards
The HPX-Mag sealless pump is ideally suited for severe chemical, petrochemical, refining and heavy-duty industrial services where full compliance with the API 685 standards is required. This pump provides users with the important mechanical, hydraulic, emissions control and safety components required by the latest edition of API 685.
Reduce maintenance and energy costs
The HPX-Mag pump uses a back pullout design, which simplifies maintenance labor and costs.The reliability payback of one HPX-Mag pump in a recent 50-pump program was 1.84 years, as calculated by its user.
The magnetic drive pump also uses less energy. In one use scenario, a customer reduced energy use by 100 kW/h (135 hp/h) and saved $35,000 in annual energy costs.
MAG-DRIVE PUMPS BALANCE SUSTAINABILITY AND PERFORMANCE TO MEET API 685 REQUIREMENTS
To meet the stringent requirements pertaining to volatile organic compounds (VOCs), many petrochemical and oil and gas companies have turned to sealless pumps.