Product Announcements | DALLAS, MARCH 2021
Flowserve Byron Jackson® H2O+ Submersible Pumps and Motors Quick Delivery Program
To help you meet requirements for high efficiency, extended lifecycles and quick delivery of deep well submersibles, Flowserve designed the Byron Jackson H2O+ submersible pumps and water-filled motors with precision cast stainless steel impellers and bowls. We call it the "plus" line of pumps because, in addition to upgraded materials in standard 6-, 8- and 10-inch sizes, they are stocked to support faster shipment of equipment for water supply applications.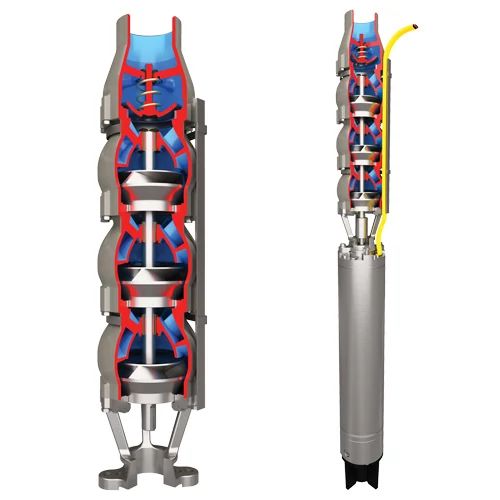 Rugged construction for deep well conditions
Precision cast stainless steel impellers and bowls replace sand cast bronzes and irons for high-efficiency operation and extended lifecycles.
Rugged construction — starting with heavy-duty castings— withstands typical sand and debris, which can degrade performance and accelerate wear on pump components.
Broad hydraulic coverage ensures a precise fit for your specific application requirements.
Byron Jackson H2O water-filled, wet-wound motors are environmentally friendly, provide high efficiency, and offer outstanding reliability.
Lightweight, modular construction simplifies installation, reduces lead times, and decreases the number of parts for stocking partners.
Pump includes an integral check valve to protect the motor thrust bearing system.
Initially launched in the Americas market, t

his product line is

available in EMA and APAC markets starting February 8, 2022.
Standard sizes and components stocked and ready to assemble to your order
Byron Jackson H2O+ submersible pumps, which come in standard sizes of 6, 8 and 10 in, can be assembled to order from components strategically stocked and shipped in one to four weeks. Byron Jackson H2O+ submersible pumps and motors are fully supported in Flowserve's Affinity™ software, a web-based pump selection program that provides immediate access to registered users for quick quotation turnarounds.
Learn more about Flowserve Byron Jackson H2O+ submersible pumps and motors
Look to Flowserve for industrial applications solutions

General industry
Regardless of your industry, you have everyday pain points that need to be addressed—and remedied. That's where Flowserve comes in.
LEARN MORE