Product Announcements | DECEMBER 2019
DMX-RO and CSX Membrane Feed Pumps
Flowserve DMX-RO and CSX pumps represent the next generation of high-pressure, multistage, high-efficiency, long-lasting membrane feed pumps. Available in horizontal split case (DMX-RO) or ring section (CSX) designs, these pumps are ideally suited for seawater reverse osmosis (SWRO) and other applications where performance and reliability are critical.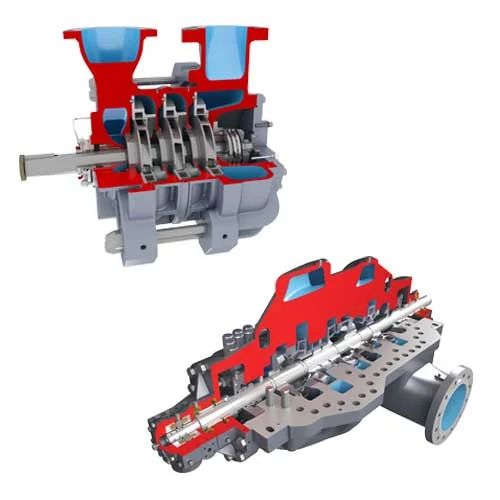 Reliable performance
To ensure reliable performance and maximize pump life, the DMX-RO and CSX pumps are available in a range of materials which fulfills today's material requirements. Flowserve material and engineering experts understand the difficulties in the manufacturing process of such materials and work diligently to overcome significant challenges such as pitting, crevice and stress corrosion, and cracks faced when processing seawater and brackish water.
Built to optimize efficiency
High-pressure pumps in SWRO plants consume a lot of power, so our DMX-RO and CSX pumps feature newly optimized designs that improve overall pump efficiency while also reducing energy use and keeping operating costs low.
Low lifecycle costs
The CSX pump is designed to meet the industry's need of a high-efficiency ring section pump for high-pressure membrane feed service. It features advanced hydraulics and optimized components specifically designed to reduce fluid losses and extend operating life. A product lube version is available that removes the bearing housings, delivering even higher efficiency within a more cost-effective product.
Simplified maintenance and reduced downtime
The DMX-RO pump features an axially split casing design, which allows maintenance teams to access its internal components without disassembling the entire unit. This easy access allows technicians to perform routine maintenance quickly on-site, reducing maintenance labor and downtime.
Advanced hydraulic design
The DMX-RO pump's hydraulics and casing design have been recently optimized based on years of desalination experience with the help of advanced computational fluid dynamics to provide optimal efficiency and system performance, which minimizes operating expenses.
Pump performance is an integral component in a competitive environment. Flowserve uses advanced tools to mechanically and hydro-dynamically provide the best solution, often optimized to fully meet all of a project's requirements.
These pumps are key for a successful installation. Flowserve provides the know-how to help you get to the next level. The Flowserve desalination center of excellence is led by:
Product leader, desalination - Christian Gratwohl
Global desalination director -Beat Schneider
Global tactical product support engineer - Francisco Jimenez-Castellanos Lucena
Find more information on CSX pump